Fave 5 – Shopping Spots in Downtown Calgary
Updated Spring 2021
Maybe you forgot your toothbrush. Maybe you didn't think it was actually going to snow in June. Maybe you just need a souvenir from your trip! Whatever you're looking for, you'll be able to find it at one of our favourite places to shop in downtown Calgary.
TD Square
This shopping centre, smack in the middle of downtown is great for shopping and a bit of sight-seeing! Part of the CORE shopping complex, TD Square houses floors of shops with everything from clothes, books, shoes, and snacks. Whether you're looking for a haircut or a hat to hide under, you'll be able to find what you're looking for in TD Square. As for sight-seeing, TD Square also houses the Devonian Gardens – a 3 acre indoor garden with waterfalls, trees, and thousands of beautiful plants.
---
holt renfrew
Feeling fancy? Holt Renfrew is Canada's first luxury department store. Founded in Quebec City in 1837, and with only 7 locations across Canada, it's the perfect place to pick up that designer item you've been eyeing for ages (remember, there's no provincial sales tax in Alberta!). Located in the CORE shopping complex, you'll find all your favourite luxury brands here, from Akris to Valentino.
---
la maison simons
Another Canadian classic! Simon's has been a fashion destination since 1840, but you can still grab a fabulous set of throw pillows for your couch to go with that jacket you had to pick up because of the surprise weather changes. Simon's is located in the CORE shopping area as well, so you don't have to make an extra stop if you're already out and about!
---
hudson's bay
We know there are Hudson's Bay stores all over the place, but Calgary's Flagship store in downtown Calgary is worth a visit, especially if you, like us, have a thing for arches. The 380ft colonnade along the storefront (with polished granite columns, of course) is a great place to get a snap for your social feed, and the covered walkway is perfect for window shopping even if it's raining!
---
Stephen Avenue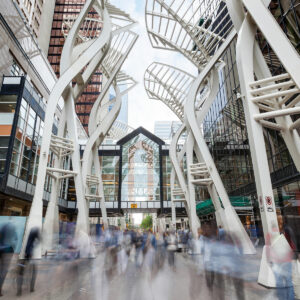 Downtown's 8th Avenue South is closed to vehicle traffic during the day, turning it into a fantastic outdoor area with plenty of shops and restaurants as well as buskers and other street entertainment on summer days. Looking to combine a bit of people watching with your shopping? This is the place – head down to the eastern end of Stephen Ave. to find Olympic Plaza, home to the medal ceremonies at the '88 Winter Olympics, now home to an outdoor skating rink in the winter, and a great urban park and water fountain in the summer.